I'm blog hopping today. You should too.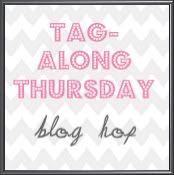 Does that mean I'm one of the cool kids now? I hope so, cuz I love reading all of these lady's blogs.
And now for something completely different, random pictures from the past few days:
The last fruit from my garden (and only tomatoes of the year). oooh, ahhh.
My daughter and her 'toeless socks'. Don't worry, after I realized this was what was left of her favorite pair of Strawberry Shortcake socks I made her throw them out, much to her dismay. Could that really be comfortable? Ah, what we do for fashion.
I don't know if you will find this as amusing as I did when I found it lying on the coffee table but I'll post it up anyway. Translation: How to love macaroni and cheese. First you get born. Next you try it. Then you LIKE IT! Just in case anyone needed a step by step on loving mac & cheese.
And, just because he could use a few well wishes, the rare appearance of my hubby, Corey. He is starting his first day on a new job today, all decked out in a new suit and everything. He is SO happy to be starting this new job and we are all very much looking forward to this new beginning for him!
Happy pre-Friday everyone!